Another Kind of Class
School at its heart is a race against the clock. Students choose, or have chosen for them, a set of Classes that take place over a period of time. In game terms, players take challenges on timed intervals, and if their scores are good enough, they move on to the next round and can unlock new Classes, otherwise they start over.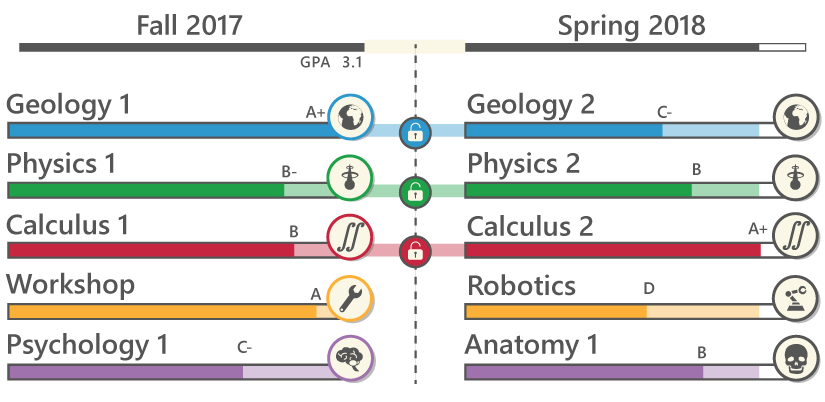 Tests of Skill
Each one of these activities could be seen as a game. A quiz has rules and a score, but the rewards are not as exciting. They are framed in a context of loss aversion. The purpose of education is to decide what students should know, see if they know it, and if not, teach them. The current system is focused on the Exam as the end goal. The point of revealing a weakness is to strengthen it, not punish it. It's important to be challenged, but if doing well means a bonus, the only way to lose is not to play.

Positive Reinforcement
It makes more sense to have the exam at the beginning, to identify weaknesses and suggest content to fill in the player's skill gaps. Games are most fun when you're playing at your level. If school is too easy, it's boring, if it's too hard, it's scary. Passing a test is a relief, but reaching a goal gives satisfaction.

The Primer is first and foremost a learning tool, and like Wikipedia and Khan Academy, we believe it should be free to anyone who wants to use it.

We are a small team with limited resources, and our ability to release updates is directly tied to how much we can raise. Your generous contributions make the difference between releasing The Primer in months or years.